Ascension Seton Hays Nurse Is An Inspiration To All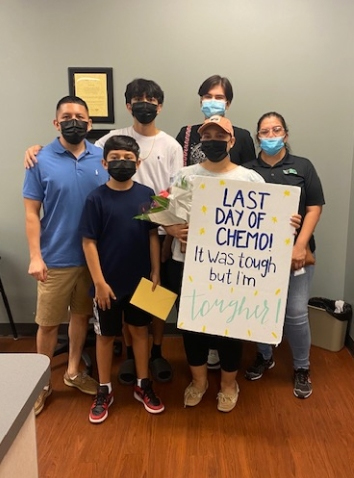 At Ascension Seton Hays, associates like Erika Aguirre, patient care technician nurse in the ICU, are an inspiration to all.
Erika was just 32 years old when she was diagnosed with breast cancer. With no family history, Erika was surprised by her diagnosis and she began seeking care at the hospital she works in, Ascension Seton Hays.
Passionate about her job, "helping patients at their worst," and determined to follow her doctor's advice to stick to her normal routine, Erika continued to work full time while receiving treatment. She says her team at the hospital offered a lot of much needed support during a difficult time.
Recently, Erika's team surprised her with a lunch to celebrate her last chemotherapy treatment, and by sporting pink ribbons on their work bags.
"Erika has shown grace and perseverance during this time by continuing her work in the ICU," said Amber Stafford, nurse manager in the ICU at Ascension Seton Hays. "She is always willing to help without complaint. She is also still attending school to pursue her nursing degree. She is an inspiration to us and a true fighter!"